Like most entrepreneurs, Ben Miller's goal is for everyone in the world to own a product from his brand, WIRTH Hats.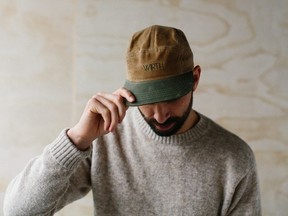 Reviews and recommendations are unbiased and products are independently selected. Postmedia may earn an affiliate commission from purchases made through links on this page.
Article content
Like most entrepreneurs, Ben Miller's goal is for everyone in the world to own a product from his brand, WIRTH Hats.
Article content
Rather than being motivated by profit, though, Miller hopes for such a situation of global saturation so that everyone can know what the Vancouver-based brand represents.
Article content
Created following the tragic passing of a close friend, Jakob Wirth, the company donates proceeds from the sale of each locally made hat design to "mental health initiatives and the WIRTH Foundation's Counselling Fund" with the aim of offering support for those struggling with their mental health. We caught up with Miller to learn more. 
Q. For those who aren't familiar, what is WIRTH Hats?
A. WIRTH Hats is a Vancouver brand dedicated to making an impact in the mental health space in a way that's empowering and impactful.
Q. Is there a story behind the name?
Article content
A. The WIRTH story honours my dear friend Jakob Wirth, who dreamed of creating a hat company, and unfortunately, died by suicide in 2014. We always encourage people to go onto our site and read the full WIRTH story as it's the reason why we exist and do the work we do.
Q. What makes the brand unique?
A. All of WIRTH Hats are handcrafted in Vancouver, with every purchase supporting counselling and therapy for those who would otherwise be unable to afford it.
Q. What can you share about your partnership hats and corporate collaboration opportunities that encourage workplace mental health?
A. Throughout the pandemic, global anxiety and depression rates have increased by 25 per cent. Mental health issues cause approximately 200 million lost workdays per year. By fostering open and honest dialogues about mental health, workplaces can start building a culture of openness and understanding. And that, in turn, can improve overall workplace health, happiness and productivity.
Article content
We're encouraging companies worldwide to invest in employee mental health. By partnering with WIRTH, companies can help foster a culture of openness and dialogue around mental health. Hats can be co-branded with company logos, and distributed to teams as impactful gifts. Companies also have the option to book the WIRTH team for wellness events and workshops to share the brand's story with employees, while discussing steps towards achieving a work environment that encourages conversations about, and provides resources to address, mental health.
Q. Who is the target customer of WIRTH?
A. Everyone. WIRTH is a reminder that mental health affects us all. With online counselling providers, we are able to support those in need — wherever they're located in the world.
Article content
Q. Is there a 'hero' style in the range?
A. The Doc's Cap is a WIRTH staple and arguably our most popular hat. Living in the Pacific Northwest means waterproof gear is essential — and this cap fits the bill. Made with oilskin, heavier cotton waterproofed with oil, you can wear this one in a downpour, in the mountains, or just because you dig a stylish-looking cap.
Q. What is the price range?
A. $55 to $65. Upgrade any hat to a "1for1 Hat" for $99, which is a WIRTH hat plus pays for a counselling session.
Q. And where can people check them out?
A. WIRTH Hats are available for purchase online at wirthhats.com.